Petua is the Malay traditional remedies/practises used to improve one's health and day to day home management and  living condition.  These are some of the Malay petua that is used as daily habit as a tool of prevention rather than cures of certain ailments.
Keeping the Traditions Alive

Asmatic
7 pieces of 'sireh' leafs blended/pound with a tea spoon of white pepper and a little bit of betel nut ointment.  These combination are pounded until it become a paste.  Apply the paste on to the chest up to the neck to reduce athma attack.
Tujuh helai daun sirih ditumbuk lumat bersama satu sudu teh lada putih dan campurkan minyak kayu putih secukupnya agar menjadi pepesan. Sapukan pada dada pesakit serta leher, amalan ini akan menghilangkan penyakit asma.
Another method is to use 'daun ekor kucing' and a bit of lime chalk, pound them until juicy, apply and rub the ingredient at the back and the chest of  the patient.
Daun ekor kucing dan sedikit kapur makan diramas sehingga keluar air dan digosokkan pada belakang dan dada pesakit asma.
Daun ekor kucing
Barah/Cancer
Use three pieces of 'sireh' leafs pounce with lime chalk (as big as your toe) and a table spoon of honey bee, until it become paste.  Apply the paste on the part of disease/sickness.  Repeat for 3 times a day.
Tiga helai daun sirih bertemu urat dihancurkan lumat berserta kapur sirih sebesar ibu jari kaki dan sesudu makan madu lebah untuk menjadi pepesan. Sapukan tiga kali sehari dibahagian yang sakit.
Other method is boil 'daun pecah beling' and drink the water 3 times a day. It is not that sour like a plain tea.
rebus daun pecah beling dan minum sebanyak 3 kali sehari,rasanya tidaklah pahit seperti minum teh o tanpa gula.
Daun kecubung
Batuk lelah/Cough n asma

Use the 'sireh' leaf that is heat up (by deeping in a hot water). The warm sireh leaf than is place on  the chest of the patient.  The sireh water also could give to the ptient to drink.
Daun sirih dilayur dan dituam ke dada pesakit. Air daun sirih diguna untuk minuman kepada pesakit.
Make  a habit to drink honey mixed with water.
Amalkan minum air madu lebah yang di campur dengan air suam.
Pucuk Betik Jantan
Mengurangkan Masalah Darah Tinggi/Blood pressure

Use the young male papaya leafs and eat as a 'kerabu' malay salad.  Also tasty if eaten with sambal belacan.  A bit sour but good to reduce your BP.
Ambil pucuk betik jantan direbus dan dibuat kerabu ia juga boleh direbus dan dimakan bersama sambal belacan.Pahit sikit tapi baik untuk yang sakit darah tinggi.Insyaallah semoga ianya berjaya.
The habitual drinking of daun pecah beling water is also good for this purpose.
minum air rebusan daun pecah beling yang terbukti banyak khasiat.Rasanya tidak pahit.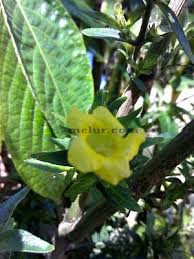 Daun pecah Beling
Sakit Hati / Liver

Use ten cloves of garlics, a punch size hard salt, a bit of jemuju and a piece of 'sireh' leaf.  Pounce those ingredient until become pasty, and pour a little bit of hot water before drinking.  For the same paste fry without  oil. The hot paste thus wrap  by a piece of clothe before placing it on the top of your chest (liver side). Apply this habit for the consequent mornings.
Bawang putih sepuluh ulas, garam jantan sebuku, sedikit jemuju dan sehelai daun sirih bertemu urat. Tumbuk lumat ramuan tersebut dan bubuhkan air panas sebelum diminum. Amalkan selama tiga pagi, dan ambil segengam garam serta goreng sangan (goreng tanpa minyak), bungkuskan ke dalam kain bersih serta tuamkan kebahagian hati di atas dada.
Buah Pinang Muda
Penawar Resdong/Sinus related

Make a habitual routine to put in some water in your nostrils and spray it out again.  (google).  This is like the 'wuduk'.   wash your face thoroughly.  Make it as many as possible.  If some place becomes ithchy do not scratch instead use a hot towel and place it on the itchy side.
Penyebab resdung adalah kekotoran / hama yang kita sedut melalui pernafasan.Mengamalkan perbuatan menyedut air kedalam hidung ( seperti berwuduk ) kemudian picit sebelah hidung dan hembuskan sekuat hati, buat berulang kali sehingga kedua-dua belah selesai. Selepas itu basuh muka sebersih-bersihnya. Lakukan ini setiap kali mengambil wuduk atau pun sampai kesatu destinasi,baik kepejabat ,bersantai , beriadah pulang kerumah malah kemana saja. Amal kesannya sungguh menakjubkan.Jika rasa gatal pada mata atau wajah ambil tuala basahkan dengan air suam dan tekap pada wajah untuk medakan kegatalan jangan di garu nanti bertambah parah.
Daun dan Bunga raya
Demam Panas/ Fever

Take three pieces of 'sireh' leafs and place in the water filled bowl together with 'pounded buah pinang muda.  Wrap the ingredient and place onto your forehead.  Apply this several times until the temperature subsides.
Tiga helai daun sirih diramas ke dalam semangkuh air bersih bersama buah pinang muda yang telah dipecah-pecahkan dan jaramkan pada kepala, lakukan beberapa kali sehingga panas badan berkurangan.
Take the bunga raya leafs and 7 grains of rice and a bit of water.  Pounce until it became oozy and juicy, give 'selawat' 11 times and apply on the head, stomache and place to the whole body.  Repeact the routine until the teperature drops.  (Note: do not apply the paste when the sun is exactly at 12-2.00 p.m..   The best time is during morning or at night.
ambil daun bunga raya dan 7 butir beras dan sedikit air diramas sehingga keluar lendir dan selawat sebanyak 11 kali dan sapu pada kepala ,perut atau jaram/sapu seluruh badan.Ulang sehingga panas berkurangan.peringatan jangan jaram/sapu masa matahari naik (12.00-2.00 tengahari). Seeloknya waktu pagi atau malam.
Pokok inai
Gegata (bengkak-bengkak dan gatal)/Ratious
Layurkan daun sirih di atas bara api dan sapukan pada badan yang ditumbuhi gegata. Rasa miang dan gatal akan hilang dengan segera.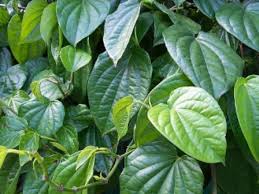 Sireh leafs
Hidung berdarah/Bleeding Nose

Daun sirih digulung sebesar jari kelingking serta diramas sedikit dibahagian hujungnya untuk mengeluarkan bau dan dimasukkan kehidung yang berdarah. Baringkan pesakit dengan keadaan kepala meninggi.
Gambir or Betel Nut
Berak Darah
Akar korma, gambir dan jintan putih dimakan dengan sirih pinang
Lengkuas merah mengubati Bronchitis
Sengal Sendi/Nerves
Ambil akar pokok Kayu Manis Hutan/Teja,sebahagiannya lagi diasah bersama air, air rebusannya diminum dan air asahannya disapukan ketempat yang derita atau
Ambil daun serai ditumbuk lumat, kemudian pupuklah ke sendi yang sengal atau
Ambil daun kecubung dan bubuh kapur sireh, kemudian ditumbuk sampai hancur. Bubuhlah di tempat yang bengkak atau sendi-sendi yang sakit atau
Ambil lengkuas merah sekadar 2 ibu jari kemudian diparut, bubuh sedikit air masak(mati) lalu ditapiskan dan ambil airnya, bubuh di dalamnya sebiji telur ayam (ayam kampung, seeloknya)dan digoncang hingga merata lalu diminum. Minumlah dua kali seminggu atau
Tumbuk daun betik muda hingga halus dan perah airnya. Kemudian campurkan dengan perahan limau nipis. Minum ramuan tersebut sekali atau dua kali seminggu.
Menurunkan Darah Tinggi/ Blood Pressure related

Ambil segenggam daun kucai, basuh bersih selepas itu masukkan kedalam mesin bersama dengan sedikit gula batu yang telah dihancurkan.Mesin sehingga lumat atau hancur ( jangan campur dengan air ) bagi mendapatkan patinya sahaja.Masukkan kedalam bekas mangkuk atau cawan,selepas itu embunkan sehingga pagi.Bila bangun pagi sebelum minum atau makan hendaklah diminum air pati daun kucai serta dengan selawat 3 kali.amalkan selama tiga hari,selepas itu jumpalah doktor untuk buat pengesahan.Insyaalah darah tinggi akan jadi normal.
Lobak putih
Melawaskan kencing/ Ease to Urinate

Ambil beberapa biji lobak putih campur dengan batang kangkong bersama akarnya,direbus sekali. Selepas air itu menjadi suam,amalkan meminum ayer itu.InsyaAllah sekiranya seseorang itu baru hendak menjadi penyakit batu karang,ia akan memecahkan batu karang tersebut.Sekiranya tidak ada penyakit,ia mencegah dari mendapat penyakit batu karang.
Jemuju
Terkena atau Terpijak Paku Berkarat
Ambil segera sebatang bawang putih yang berdaun buang kulitnya kemudian celup dalam minyak dan panaskan di atas api,apabila sudah panas tampalkan pada bahagian yang terluka berulang kali buatlah 2 kali sehari.Insyaallah baik.
Limau nipis
Hilangkan Sakit Kepala/Headache
Ambil beberapa biji limau nipis, potong dan gosokan di seluruh bahagian kepala , biarkan selama 1/2 jam insyaAllah hilang sakit kepala.
Daun bacang
Gusi Berdarah/Bleeding Gums

Ambil beberapa helai daun bacang dan masukkan kedalam periuk berisi air, campurkan dengan beberapa helai daun inai. Kemudian rebuslah dan setelah airnya mendidih bubuhlah sedikit asam gelugur dan garam secukup rasa. Setelah airnya suam bubuhlah kedalam mulut dan biarkan selama 3 minit, lalu berkumur-kumur atau
Kumurlah dengan air suam yang telah dicampurkan dengan sedikit garam atau
Jika gusi anda terluka dan anda tidak mahu biarkan luka itu lama-lama, berkumurlah dengan air daun sirih. Caranya,ambil 15 helai daun sirih dan dimasakkan dengan air. Setelah itu sejukkan rebusan itu. Berkumurlah dengan kerap dan menggunakan air daun sirih itu.
Bunga melor or jasmine
Demam Biasa/ fever
Makanlah isi Labu Air berserta cuka sebelum tidur malam atau
Makanlah bawang besar serta keju yang lama di ikuti memakan pula air limau nipis beserta kulitnya atau
Minumlah air rebusan bunga melor.
Malay Petua Sites
petuamelayu.com
Suzali's Traditional Malay Remedies
tanamanherbal.wordpress
jamu-herbal.com
From the Scribd