oh bulan
enggan melayan diriku lagi
pabila
airmata membasahi pipi
dah lagu lagu di radio
seolah olah memerli aku
pabila
kau bersama yang lain
+  = 
Every time I heard the name YUNA , it reminds me of the Playsation 2 popular game Final Fantasy (as a matter of fact I completed few of the series before!!lol!!!).
This time let me introduce you to the other Yuna.  If you have not heard her singing , she reminds me of Norah Jones and or Colbie Caillat.
Yuna or her real name Yunalis is  an acoustic Malaysian indie singer songwriter who has a beautiful voice!
Yuna carries  unique voice and out of the Malay pop stereotype music genre.   Her real name is Yunalis bte Mat Zarai and hails from Kuantan, Pahang. I'm not so sure whether she has graduated or not but the last time I heard of her, she was studying Law at UiTM Shah Alam.   Her songs are more to alternative, acoustic and folk rock.  She has recorded both the english and Malay songs, but her staple is more of English.  My favourites would be "Rocket", "Deeper Conversation", "Greek Goddess", "After Midnight" and the Malay would be "Dan  Sebenarnya" and "Cinta Sempurna".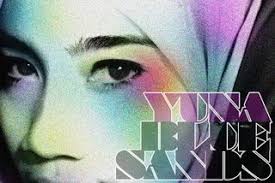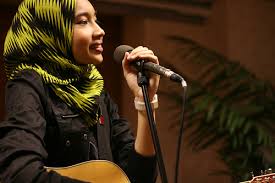 Quotes:
I just recently knew about this girl – YUNA- today from hafreze and after listening to her songs I quickly-instant-favourite her! I love this kinda style where you can hear the song while lying under the shady tree or sumthin' , it's like having our precious moment with a songs on the background – what on earth I'm babbling now?- huhu. plus I signed up again in myspace just to view her piccas. LOL. hey Yuna, if you read this just wanna let you know that your songs are all mabeles babe!! nak pegi KLpac pliss!! ( dah lepas punnn ), but according to KLpac schedule there'll be another 3 gigs after this. meet me there!

Bubblewrap




Ko memang best Yuna.. suare ko memang superb, smooth and steady..tp yuna,ak nak pesan kt ko, klo sape2, atau ape2 yg ko dgr dari org lain, atau mane2 sumber, bende burok2 pasal ko, ko wat xtau je, itu adalah ujian utk ko capai kejayaan, nak berjaye bkn senang beb..mrk semua 2 dengki, hanye tau nak jatohkn org je..pedulikn mrk!jgn ko skali2 jatoh dgn kate2 org! jgn ko kuarkn air mate pn! dorg nak kate ape bia, ko masih ade peminat yg sedie utk setie dgn ko!! aku harap sgt ko collaborate dgn MUH.

swatmate
I found this song today! It's great, i can't stop listening a, the lyrics, melody..the voice!!   All it's too great!

Good job!
warina 13
She is a beautiful Malay lady blessed with wonderful voices and great talent in music. She can play various musical instruments and also write her own songs. Did I mention she wears a tudung?  Most importantly, her voice and songs are so very soothing. I love it so much!

shewo




"Tempayan yang penuh itu tidak berkocak airnya"

The filled up earthen jar would not create wave when shaken – a smart/talented person usually choose to be undistinguished (low profile)



GM: I first heard of Yuna, even I think I've met her once years ago before she was popular.  She did some recording at my bro's Iseekmusic studio.
http://www.myspace.com/yunaroomrecords
*LYRICS*
oh bulan
enggan melayan diriku lagi
pabila
airmata membasahi pipi
dah lagu lagu di radio
seolah olah memerli aku
pabila
kau bersama yang lain
adakah perasaan benci ini
sebenarnya cinta
yang masih
bersemadi untukmu
dan sebenarnya ku mengharapkan
disebalik senyuman mu itu
kau juga
merindui aku
ku enggan
berpura pura ku bahagia
ku enggan
melihat kau bersama si dia
oh ku akui cemburu
mula menular dalam diri
pabila
kau bersama yang lain
pabila kau merenung matanya
ku rebah
jatuh ke bumi
disaat kau benar benar mahu pergi
seperti
ku bernafas dalam air
After Midnight

After midnight i shall kidnap you from the world
and ill keep you in my room
hush now my love and hold my hand
after midnight i shall take you to a place
where no one else should know of
hush now my love and hold my hand
you are exactly where you're supposed to be
and if they come for you
they would have to find me
stay
keep me awake
keep me amazed
only for today
keep me dazed
my love is yours only
after midnight
i shall stay awake
and if you chose to close your eyes now
hush now my love
i'll watch you sleep
you are exactly where you're supposed to be
and if they come for you
they would have to find me
stay
keep me awake
keep me amazed
only for today
keep me dazed
my love is yours only
credit thanks to:
Yuna