Bahasa Malaysia, English, Mathematics, Additional Mathematics, Physics, Chemistry, Biology, Science, Accountancy, Higher Arabic Language, Economics, Commerce, Geography, History, Malay Literature, Arts, Tasawwur Islam, Al-Quran Education and Assunnah, Syariah Islamiah Education, Islamic Education, Science and Technology.
SPM 2008  –   20 As
She is  the top Sijil Pelajaran Malaysia scorer with 20 As.
The 18-year-old student of SM (Agama) Maahad Muhammadi Kota Baru obtained 19 1As and one 2A.
The eldest of four siblings, from Kampung Parang Puting near Pantai Sabak, said the three-day SKOR seminar, organised by Berita Harian which she attended last year, helped her a lot in answering questions on subjects such as Mathematics, Science and Bahasa Melayu.
She did not have tables to study. Nor the luxury of tuition classes, unlike most of the other students. All she had is the small living hall in her house for her to study. Daily expenses is RM 5; RM 4 for bus. She's left with RM1 for herself.
Her father is a fisherman and her mother is a cleaner.
"I did not miss any tuition classes and group studies which the school organised as I could not afford to take private tuition with my parents small income, " she said.
She lives here.
""Makan roti saya tiap-tiap hari di sekolah..di rumah, dapat makan nasi dengan telur, pun saya telan," katanya dengan tenang.."
Nik Nor Madihah Nik Mohamad Kamal scored 20A (19A1, 1A2) is a daughter of a fisherman from Kampung Sabak, Pengkalan Chepa, Kelantan.
A  true aspiring story….
Another student of  Maahad Tahfiz Sains Tanah Merah, also did well in her SPM, Nor Farah Aisyah Nazim( in the blue dress)  scored  17As.
SPM 2007  –   20 As
Azali Azlan scored  20 A1 in  SPM 2007, is the son of  Azlan Othman and Rozita Sanapi, both are teachers in Sungai Petani, Kedah.  Azali studied at Sekolah Menengah Kebangsaan Agama (SMKA) Yan, Kedah.
He took Bahasa Melayu, English, Syariah Education, Al-Quran & Sunnah, Arabic Language, Physics, Chemistry, Biology, Modern Mathematics, Additional Mathematics, History, Geography, Commerce, Economy, Accounting, Science, Art, Islamic Studies, Islamic Tasawwur, Malay Literature and English for Science and Technology. Out of the twenty subjects, nine were self taught at school. The subjects were not available at school. He did not attend to any tuition class privately or organised by the school. With 21 subjects in his hand, he underwent a rather grueling examination schedule.
Azali, who wants to be a professor, said he was active in co-curriculum activities and did not have fixed study hours.
"I didn't want to be pressured by a timetable and only study when I wanted to. What is important is to have that self-motivation," he told reporters when met after the announcement of the 2007 SPM results by Education director-general Datuk Alimuddin Mohd Dom here today.
.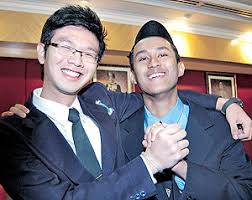 Meanwhile, Quek Hai Ren, from Sekolah Menengah Kebangsaan Hwa Lian in Mentakab, Pahang, who obtained 16 1As, said that besides the encouragement from parents and teachers, it was paying attention in class that helped him to do well in the examination.
SPM 2006 18 As
Siti Fatimah Mukhtar 18A (17A1 dan 1A2) of SM (Agama) Maahad Muhammadi Kota Baru. Siti Fatimah scored 1As in Bahasa Melayu, English, Mathematics,  Additional Mathematics, Science, Biology, Physics,  Chemistry and English for Science and Technology,  Commerce, Geography, History, Pendidikan Al-Quran and As-sunnah, Pendidikan Syariah Islam, Tasawwur Islam,  Accounting and Basic Economics. Her sole A2 was in Advanced Arabic.  Suprisingly was not considered 2006 Malaysia spm Top Scorer. No se ??
Yeo Jie Ming of SMK Tinggi Bukit Mertajam, Penang managed to score A1 (17As) in Bahasa Melayu, English, Moral Studies, History, Mathematics, Science, English Literature, Additional Mathematics, Commerce, Principles of Accounts, Basic Economy, Physics, Chemistry, Biology, English for Science and Technology, and Sports Science. She also score 1A for English 1119.
She is the daughter of  Dr Yeo Ting Chuan and Dr Goh Peng Peng ( a paediatrician and a general practitioner, respectively).
Nadiah Amirah Jamil of SMK Tun Sardon, Batu Pahat, Johor, he said she was not considered among the top although she was earlier reported to have scored 19 As.  She obtained 14 1As, four 2As and one 3B instead.  She  had even written two books to record her achievement. The first, Diari Nadiah and Meniti Kecermelangan.
SPM 2005    15 As
15 A1s

1. Esther Elizabeth Jack (SMK Raja Lumu, Klang)

2. Chin Shiang Jin (SM Kian Kok, Kota Kinabalu)
14 A1s
1. Mohd Ahnaf Abdul Rahim (SMK Sultan Abdul Samad, Petaling Jaya)
2. Teo Wee Shen (SMK St Francis, Malacca)
3. Ng Sher May (SMK Sultan Abdul Samad, Petaling Jaya)
4. Farhan Kamal (Maktab Sultan Ismail, Kota Baru)
SPM 2004 17 As
Nur Amalina Che Bakri (born December 07, 1987 in Kota Bharu, Kelantan) was the student who held the record of most 1As scored in the Sijil Pelajaran Malaysia. Upon the announcement of results of SPM 2004 on 26 March 2005, she received 17 1As – a record for number of 1As received by a student in the history of Malaysian education back then.  She was sponsored by Bank Negara Malaysia to study medicine in theUnited Kingdom, and did her A-levels in Cheltenham Ladies College in the UK.
When her A Levels result was released in 2007, she scored 5As and she received an offer from University of Edinburgh to study medicine. She is in her first year of medical degree and is currently under the scholarship of Bank Negara Malaysia
🙂
————————————————————-
Tiap-tiap sesuatu, apabila banyak menjadi murah melainkan akal, bertambah banyak lagi berharga

benjamincafe.blogspot

GM: As much as I am delighted to witness great academic attainment of these lads, please be reminded that it is not a guarantee that one will have a good life and career later on. Nevertheless, it is a good foundation and indication of excel and success in their future undertakings . But we shall not look at the end results alone, the aspiring  stories behind the achievements should also be highlighted in media, movies, drama… hence these efforts shall be remembered and became  the best example and motivational factors  to the thousand of our children for years to come.   ………. are not lazy………..are not stupid………..just need the motivational factors.


'Kalau asal benih yang baik

jatuh ke laut menjadi pulau'

if it comes from a good seed, even throwing  to the sea it becomes an island

Resources and excerpts  from
Filed under: Steady!